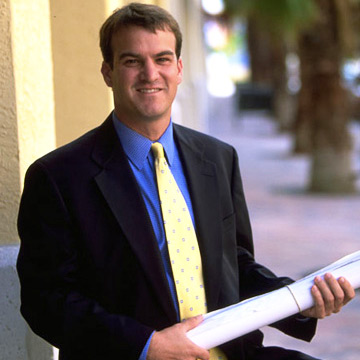 Kipp Schulties is the driving force of KSGD and it is his own high personal character after which the company philosophy is modeled. Kipp is a man of principle, integrity and honesty. A credit to his business capability and ethics is his capability to maintain KSGD for in its initial three years strictly on referrals from former clients.
Kipp's past experience as a competing player with nearly a scratch handicap has provided him with invaluable experience in design by having a thorough understanding of the necessary skills of shot making and playability. Kipp has vast experience in the design of championship caliber golf courses having worked with PGA Touring Professional Fred Couples and golf course architect Gene Bates for over seven years. As an independent designer, Kipp has master planned and/or designed two of the elite 27 golf resorts in the continental United States as rated by Great Golf Resorts of the World – 2000 edition. Those two facilities are the Boca Raton Resort & Club (Kipp Schulties Golf Design, Inc. with Gene Bates) and Quail Lodge Resort & Golf Club.
Kipp continues to maintain a working relationship in golf course design with the Fred Couples design team. Having a background that includes and MBA in Finance, he has the necessary experience to fit in well with the overall project development. He can be responsible for site analysis, the production and analysis of feasibility studies, financial analysis, contract negotiation and administration and overall project management. Kipp has also established relationships with several lending and financial institutions and other private capital groups for the purpose of funding golf facility development.
Your experience with KSGD will be unparalleled in personal service and professionalism.